Continental & Lycoming Aircraft Engines in Henderson, NV
For more than a decade, Nevada Aircraft Engine LLC has been the state's premier provider of Lycoming and Continental aircraft engine parts and maintenance. We are proud to offer the most comprehensive engine overhaul services in the region. Our shop can help you take to the skies!
Lycoming & Continental Aircraft Engine Parts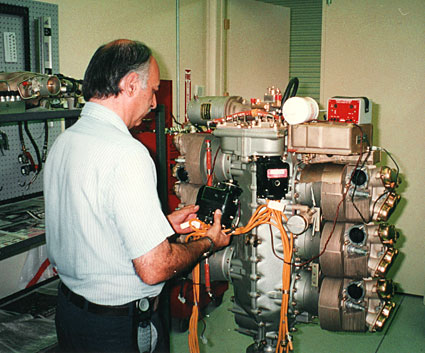 Our talented team of technicians has more than 45 years of experience in the aircraft engine industry. We are some of the most well-regarded mechanics specializing in the overhaul and repair of Lycoming and Continental aircraft engines in Nevada. Our full-service shop can help you make the most of your personal or commercial craft, and our strategic location between Henderson Executive Airport, Boulder City Municipal Airport and McCarran International Airport makes us one of the most convenient aircraft repair centers in the area. We understand the intricacies of flight, and Nevada Aircraft Engine LLC offers extensive and comprehensive services that you can rely on and fly on!
Nevada Aircraft Engine LLC is a Federal Aviation Administration (FAA)-certified aircraft engine rebuilding and overhaul center. Our shop is capable of providing a wide range of diagnostics, repairs and overhaul services. We specialize in working on Lycoming and Continental aircraft engines. We are capable of meticulously testing your engine's torque, horsepower, oil pressure and temperature using our state-of-the-art dynamometer. We can manufacture any components that may need in our extensive in-house machine shop, and also offer prop strike inspection and other maintenance services. If you are looking for someone to service or overhaul your Continental or Lycoming aircraft engines in Nevada, here are a few reasons that you should select Nevada Aircraft Engine LLC:
We maintain and operate a full-service, in-house machine shop.
We are an FAA-approved repair station – N5ER485X
Our shop maintains an Airframe and Power Plant (A & P) license.
Nevada Aircraft Engine LLC can perform detailed testing using our cutting-edge dynamometer.
Overhaul Your Aircraft Engine
Is your aircraft's engine in need of overhaul? Looking for Continental or Lycoming aircraft engine parts in Henderson, Clark County, or Las Vegas, NV? Call Nevada Aircraft Engine LLC to start the process of making it as good as new.