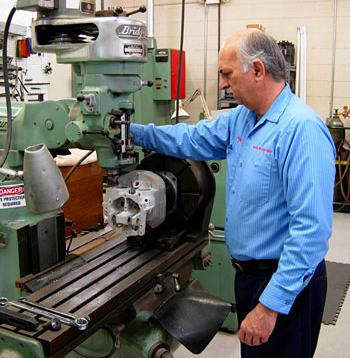 If some components of your aircraft engine are in need of repair or replacement, you can count on our talented machinists to use our in-house gear to produce the parts that you need.
Nevada Aircraft Engine LLC
is one of the most dependable producers and distributors of Lycoming and Continental aircraft parts in Nevada. Continental and Lycoming aircraft engine cylinders convert heat to kinetic energy, meaning that they are one of the most essential components of your engine. We maintain an inventory of the most popular cylinder types for faster turnaround time, enabling us to help you get back in the air more quickly.
Machining and Cylinder Offerings
Nevada Aircraft Engine LLC is a full-service airplane mechanical center that you can rely on. Here are just some of the extensive cylinder and machining services that we offer:
Machining Services
We maintain a full-service machine shop inside of our airplane engine repair shop. Our talented machinists can perfectly repair or precisely manufacture any components that your engine is in need of. We are proud to have one of the most extensive Lycoming and Continental aircraft engine repair centers in the area.
Cylinder Services
When we are working on your engine, we utilize a specialized oven that evenly heats and opens the entire cylinder, so as to prevent damage. If your cylinders are first run, we can use them on our overhauls with reliability and great savings to you.
Cylinder Rebuilding
Depending on the condition of your cylinders, we may be able to rebuild rather than replace them. If this is the case, you can count on us to save you a substantial amount of money and rebuild, rather than replace, your Lycoming or Continental aircraft engine cylinders in Henderson, Clark County, or Las Vegas, NV.
Obtaining Machining Services
If your airplane engine is in need of machining services or cylinder maintenance, reach out to us as soon as possible. We will work with you extensively to ensure that your plane is ready to safely and effectively take flight. Contact us today at 702-565-5959 to learn more about our Continental and Lycoming aircraft engine repairs, overhauls, and additional services!